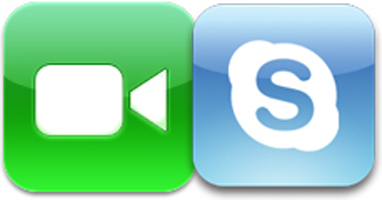 During this age of technology, it's important for friends and family to stay connected.  Whether that means staying in touch through phone calls, texting or social media is up to the user.  The most beautiful part of these modes of communication is the instant connectivity over long distances.  Here at College Manor we would like to offer a free and easy way to stay in touch with those friends or loved ones that might not be able to make the trip to our community.  Starting now, residents of College Manor, their friends and family have the ability to schedule a FaceTime or Skype video chat.  Here is how to start your chat today!
FaceTime/Skype Procedure:
 Call Jackie or Susie at the front desk (410-252-0440) to request and date and time for the call.
 Please provide the phone number and/or username where you can be reached.
 College Manor will initiate the call on the date and time specified.
 Please give College Manor at least 24 hours notice when scheduling a FaceTime or Skype call.
 If you have any questions or issues, please call Bobby Renaud (443-797-7456).
https://collegemanor.com/wp-content/uploads/2016/09/75a8dd_f22b1817b0b3e5541c908162631f028e-copy-1.jpg
200
382
College Manor
https://collegemanor.com/wp-content/uploads/2016/04/cm.jpg
College Manor
2016-09-22 16:58:31
2016-09-22 16:58:31
It's FaceTime/Skype